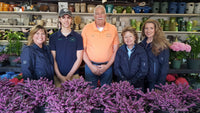 Welcome to Shelley's!
For over 65 amazing years, our family has been providing Branford and the surrounding towns with the best hand-selected plants and supplies we can find. We work with local nurseries to bring you the highest quality options for your lawn and garden.
Our love of gardening is only rivaled by the love we have in helping our customers and welcoming you to the Shelley's Family!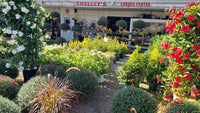 What Our Customers Are Saying
"Shelley's is AMAZING! Today was our first visit to Shelley's and it definitely won't be our last! I've traveled to SO many local greenhouses but nothing has wowed me like Shelley's did! Beautiful large selection, amazingly priced and I felt like family immediately as I walked in. I loved hearing about the care that goes into every single plant there - and it's a houseplant collector's dream! Thank you for the wonderful experience!!"
~ Fox (one happy customer)
Order over the phone, and pick up. You don't have to worry about the quality you get. Every plant is picked out by Big John in person at local nurseries not delivered in a semi truck jammed in together with a million other plants.

Richard
Absolutely the best garden center to get plants and beautiful flowers, very helpful and informative customer service, never go anywhere else.

Nikki
Shelley's is the absolute best Garden Center in Branford I've been going there for years and I will continue to do so; the family and the customer service is outstanding. Keep up the great work.

Zachary
I always pass by in the summer when the plants are all outside but never happened to stop. I saw a Facebook ad that they had houseplants so I popped in last weekend. I'm very glad I did. They have a great selection of pots and houseplants and the prices were fantastic!

Susan
Always a greeted with a smile. Love getting my flowers here.

Lori
I bought the most beautiful mums at Shelly's today for only $5.99 each. They were full, healthy and vibrant in color. The people there are super friendly.

Kathleen
Shelley's is awesome. Fantastic variety and quality. Plus they always take time to answer my many questions! Don't go anywhere else.

Lucy
We have been buying our plants from Shelley's for 22 years and couldn't be happier. Friendly people, great advice, good well cared for stock.

Anne
I can't say enough wonderful things about Shelley's. They are always my first stop for anything gardening related; not only do they have good selections, but they have a wealth of knowledge and advice to go with it. They've never steered me wrong!

Alana
Follow us on Facebook for new arrivals, events, and all sorts of fun!
Visit Us!
217 Main Street
Branford, CT 06405
Shelley's Garden Center is open
every day from 8:30am to 6:00pm
(203) 488-9479